It's time to start thinking about your Thanksgiving table! Let GiftedGrape.com help you set your style for a memorable holiday celebration. Or find some distinctive pieces to give as hostess gifts to show your gratitude. We have wine accessories and table accessories that are functional as well as beautiful.
Set places at your Thanksgiving dinner with these adorable Cork Place Card Holders. This set of 4 sculpted resin place card holders look like real cork but are more sturdy and reliable. This place card set comes gift boxed and includes 8 blank place cards. They would also make a terrific gift for your favorite hostess!
---

Arthur Court Table Serving Pieces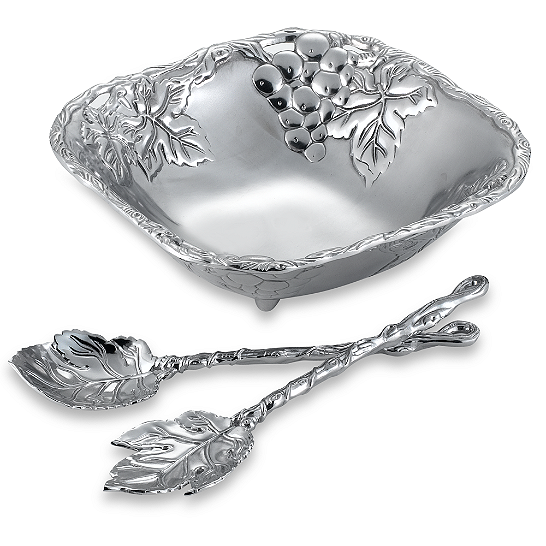 Arthur Court Grape Salad Set
Dazzle your guests with stylish Arthur Court serving pieces. The bounty of California's famous Napa wine region inspires Arthur Court's classic Grape Collection. The decorative metal is manufactured using Arthur Court's signature premium sand cast aluminum alloy. Grape Salad Set by Arthur Court includes 3 pieces – a 9 1/2″ grape design salad bowl and two salad servers. The salad bowl, with its square silhouette, has a mirror-like finish in the center and a raised intricate pattern of grape clusters on the edges making it a stunning piece.
---
Thanksgiving Table Decoration Ideas on Pinterest
Our Pinterest board Thanksgiving Table Ideas has some wonderful, fun tips for Thanksgiving themed decorating and wine accessories to make your meal feel elegant.
---
Orbital Wine Decanter Aerates as You Pour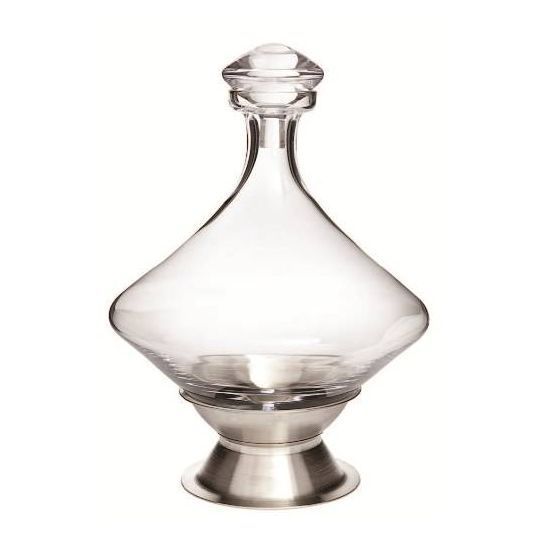 Orbital Wine Decanter
The Orbital Wine Decanter with Brushed Stainless Steel Base wine decanter brings an elegant touch to your Thanksgiving table. When the Orbital Wine Decanter is removed from its stainless steel base, the shape of the bottom of the Orbital Decanter allows it to roll gently from side to side to aerate the wine. The wine within is able to breathe while the sediment stays in the bottom. The Orbital Decanter also comes with a tight-fitting crystal stopper to prevent spills.
---
Free shipping on orders over $45 at GiftedGrape.com
Remember…
**FREE Automatic Shipping on all orders $45 and up within the continental US (excluding drop shipped items).
**Standard orders ship within 1 business day.
---
Stock Up On Wine Glasses for Your Guests
The govino Stemless Wine Glasses are shatterproof, elegant, reusable and recyclable. The govino Stemless Wine Glasses are made of a BPA-free polymer that reflects the wine's color and aromatics just like crystal. Featuring a thumb notch that makes swirling wine simple, these glasses are perfect for supplementing your regular glass set for big parties. Set of 4, 4.4″ tall, 16 ounce wine glasses. Hand wash only.

"It seems like every time we have a party, wine glasses and bottles are inevitably broken by the pool or somewhere on the deck or patio. Hopefully these cool little glasses will solve the problem. I love that there is an indentation in the side of the glass for thumbs. It helps to hold on to the glass when there is a lot of condensation on the outside of the glass." – Ann D.
Click here for the govino Stemless Wine Glass set of 4 dishwasher safe glass, for easier cleaning!
---
Thanksgiving Hostess Ideas
Use the Liste de Vins wine bottle stopper display frame as a clever centerpiece displaying photos or your dinner menu with wine pairings at your Thanksgiving feast. The Wine List (Liste de Vins) Wine Bottle Stopper has double sided glass in the middle to hold your list of wines, menu, photo or anything else you choose. Fashioned from solid pewter and glass with a fully adjustable height (from 7″ to approximately 13″) and fitting in any standard wine bottle, this bottle stopper wine list or menu is the perfect hostess gift!
Thanksgiving Turkey Wine Glass Decals feature unique whimsical turkeys that instantly individualize Thanksgiving wine glasses. Make your Thanksgiving dinner table memorable with these turkey decals on your wine glasses. The Thanksgiving Turkey Wine Glass decals are removable, reusable self-adhesive vinyl decals that allow you to easily change the look of a wine glass. The decals are each 2″x2″ and come in a sheet of 9 assorted colors. How fun is this!
Give Thanks Thanksgiving Acrylic Wine Glass is a BPA-free acrylic insulated wine glass with a brown straw and lid and a Thanksgiving message. The Give Thanks Drink Wine Thanksgiving Double Wall Acrylic Wine Glass is perfect for any Thanksgiving event where you want something unbreakable. The double wall wine glass is an insulated wine glass to keep your wine cool longer and will not sweat, leaving your wine glass condensation-free. The Give Thanks Drink Wine Thanksgiving Acrylic Wine Glass holds 13 fluid ounces.
The Turkey Wine Glass features a hand painted turkey with his feathers colorfully displayed on the wine glass. The Turkey Wine Glass is a perfect for a turkey dinner any time but especially at Thanksgiving. Oh and might there be a Virginia Tech Hokies fan in the crowd? The 14 ounce Turkey Wine Glass comes in lead free glass. The artist resides in Florida and hand paints each glass individually in exceptional detail so no two are absolutely identical. Although the paint is durable and baked in, we recommend hand washing these wine glasses.
Custom imprinted wine accessories at GiftedGrape.com
Visit GiftedGrape.com
5585 US Highway 1 N Suite 4
Vero Beach, FL 32967
Call us anytime @ 877-978-7666