Unique wine cork storage from GiftedGrape.com
GiftedGrape.com has several fun solutions for storing your wine corks. Wine corks are special – saving them helps us remember a distinct vintage, or a special occasion. Often this modest tool has a great impact on our lives; they are miniature works of art that inspire us to remember events and create lasting keepsakes.
"Night & love & wine want no half measures." – Ovid
---
GiftedGrape.com has a terrific selection of cork holder cages! We've got several themed cork cages that will match just about any decor or interest. For the fashion savvy wine connoisseur we have the handbag cork cage or the high-heeled boot cork cage. A guitar shaped cork holder cage would suit a music lover. You can choose a hen, a cat, a dog or a pig cage for an animal lover. Shop the whole collection to find just the right cork cage for you!
---
Remember…
**FREE Automatic Shipping on all orders $45 and up within the continental US (excluding drop shipped items).
**Standard orders ship within 1 business day.
---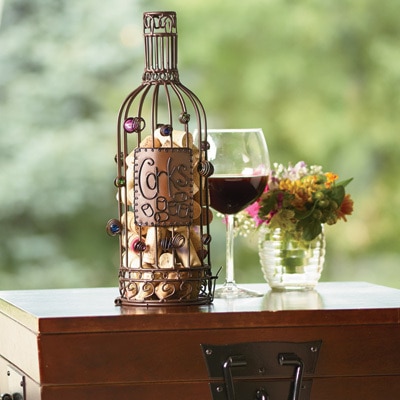 The Wine Bottle Cork Cage is a fun way to keep your wine corks. Just drop a wine cork in the top of this unique cork holder. The Wine Bottle Cork Cage is artfully sculpted metal work with a "Corks" label and colored glass spheres. The reverse side depicts a grape image in metal. The bottom of the Wine Bottle Cork Cage hinges open to release the corks.
The Wine Bottle Cork Cage also is a wine cage to hold a bottle wine as a gift. Pop in a bottle, add a gift tag and you have a great gift for someone special. Check out the Champagne Bottle Cork Holder, that will hold a bottle of champagne, making a beautiful gift!
$24.95     $29.95
---
The Fish Cork Cage, bringing the beauty of sea life to your lake or beach home, is a fish shaped cork holder to collect wine corks. The Fish Cork Cage has a body woven like scales with emerald glass balls entwined within. The fins are hand-shaped with delicate ribs. The Fish Cork Cage is a fun way for a fisherman to display wine corks. The Fish Cork Cage has a warm bronze colored base with a beautiful blue-green patina finish that truly captures the essence of sea life.
Complement the fish cork cage, and keep your tropical theme fresh with the Turtle Cork Cage Cork Holder.
---
Follow GiftedGrape.com on Facebook
Come visit us on Facebook, where you'll find a coupon for 5% off your order!
---
Create Your Own Keepsake with Cork Kits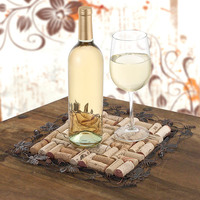 Cork Collector Trivet Kit – Just add your own corks!
The Cork Collector Tray is a unique wine cork tray kit that can be used as a cork trivet, a cork serving tray or a cork bulletin board. The Cork Collector's Tray is Cork Cage inspired and the tray features intricate woven metal work, entwined glass spheres and grape leaves finished in antiqued brass style. The metal base of the Cork Collector's Tray has four rubber stoppers for table and counter protection. It also has a hanging hole so you can hang it on a wall to use as a wine cork bulletin board. And best of all, you personalize the Cork Collector's Tray by gluing in your own corks from bottles of wine you've enjoyed in the past. Pop those wine corks…and create a wine cork tray with this kit.
For more decorating ideas that use your cork collection, shop our Cork Kits!
---
Be the first to write a review! You'll receive a 10% discount for writing a review for one of our products after you've purchased it – and an additional 5% off if you share the review on Facebook or Twitter.
---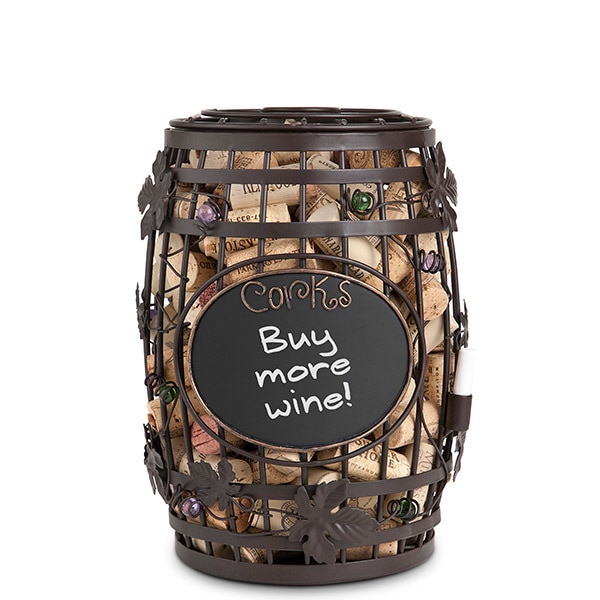 Chalkboard Barrel Cork Holder
The Chalkboard Wine Barrel Cork Cage, shaped like a wine barrel, is a wine cork holder for corks from your wine bottles. This Wine Barrel Cork Cage has a chalkboard label so you can write a special message on this cork cage, making it a personalized gift (one piece of chalk is included.) The Chalkboard Wine Barrel Cork Cage also is a unique way to present a bottle wine. Pop in a wine bottle (very tall bottles will not fit), add a gift tag and you have a great gift for someone special. The Wine Barrel Cork Cage holds approximately 150 wine corks.
"I love this wine cork cage!! We recently bought a new house and have finally begun decorating it. I will definitely be purchasing more for my home from Gifted Grape. This was my first purchase and loved the quick delivery."
Thanks Amanda!
---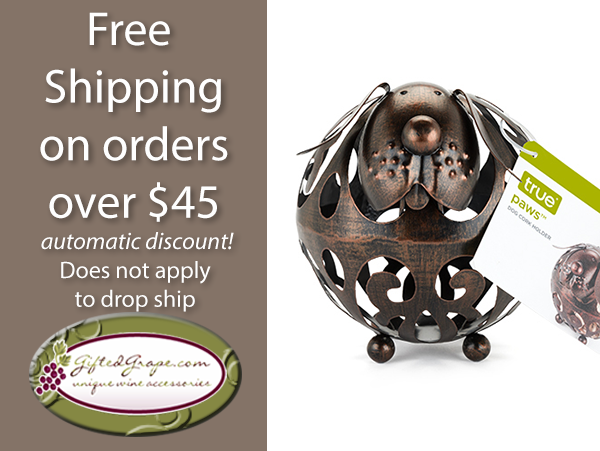 GiftedGrape.com Wine Accessories
Good at http://GiftedGrape.com.
Free shipping on $45+