Chill White Wine Fast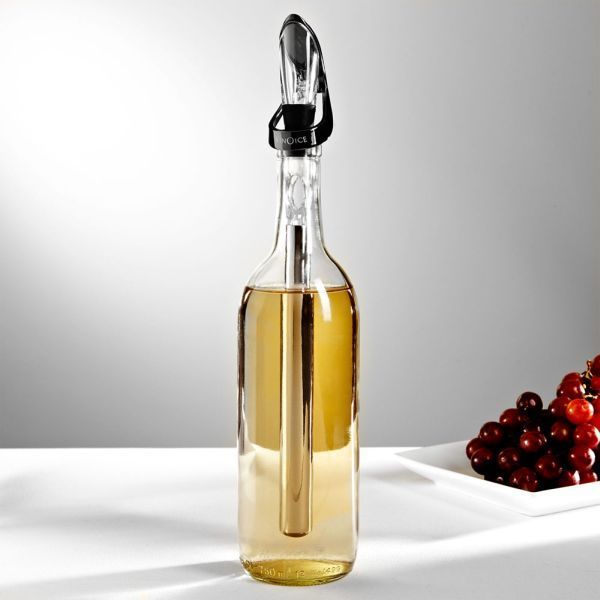 VinOice Wine Pourer with gravity lid and chill rod
Why do we chill white wine?
Why don't we chill red wine… or do we?
Is there a way to chill white wine fast?
GiftedGrape.com has answers to your questions!
We often buy a bottle of white wine and throw it in the refrigerator, but does your white wine need to be chilled that much? Experts agree the ideal serving temperature of white wines (depending on the varietal) is anywhere between 45° and 55°. The fridge typically keeps things cold – usually right around 40°. Too cold, and your white wine loses its aromatics and flavors. Typically, the more full-bodied the wine, the closer to the warm end of the scale you should be.
Red wines should be served between 62° and 68°, which is generally considered to be room temperature. However, if you live in a warm climate, or you keep your home on the warmer side, you might want to think about gently chilling your red wines as well.
So what's the solution? Aside from a dedicated wine cellar or a space-consuming wine chiller that stores wine at the perfect 55°, consider wine chilling accessories that chill as you pour – resulting in the perfect temperature wine every time.
VinOice Wine Chiller and Pourer
VinOice Wine Pourer with gravity lid and chill rodThe VinOice Wine Chiller and Pourer pours and chills wine from a bottle with no drips. The VinOice Wine Pourer with gravity lid and chill rod will maintain the drinking temperature of wine for up to one hour. The VinOice Chill and Wine Pourer is the fastest, easiest way to pour chilled wine! VinOice Wine Chiller and Pourer is a must-have wine accessory that eliminates drips and leaks that come from keeping chilled wine in an ice bucket. The VinOice wine chiller and pourer allows for easy, drip-free pouring with one hand! To use the VinOice wine chiller, simply place the stainless steel chill rod into the freezer at least 30 minutes before use. Then, pour one glass of wine to create enough room in the wine bottle to insert the chill rod. The pourer unscrews for easy cleaning with warm water, and the chill rod stores in the freezer, ready for its next use! TheThe chill rod measures approximately 7½" long, and the pouring spout measures 5½" long. Whether you're craving a crisp glass of Pinot Grigio or cellar temperature Cabernet, this two-in-one pourer and chiller makes serving wine at its ideal temperature clever, classy, and undeniably cool.
Sale!     $21.95     $28.00
---
Need your wine chilled right now?
Try one of these ideas from our Facebook fans:
"Wrap in wet paper towels and place in freezer 10-15 minutes. Perfect!!!"
"Sometimes I will put an ice cube or two in the glass, stir it a bit, and take out the ice cubes. Obviously you can't serve it at a party this way, but it works well for a Monday night wine emergency."
"Frozen grapes! Just like ice cubes, but they don't melt."
---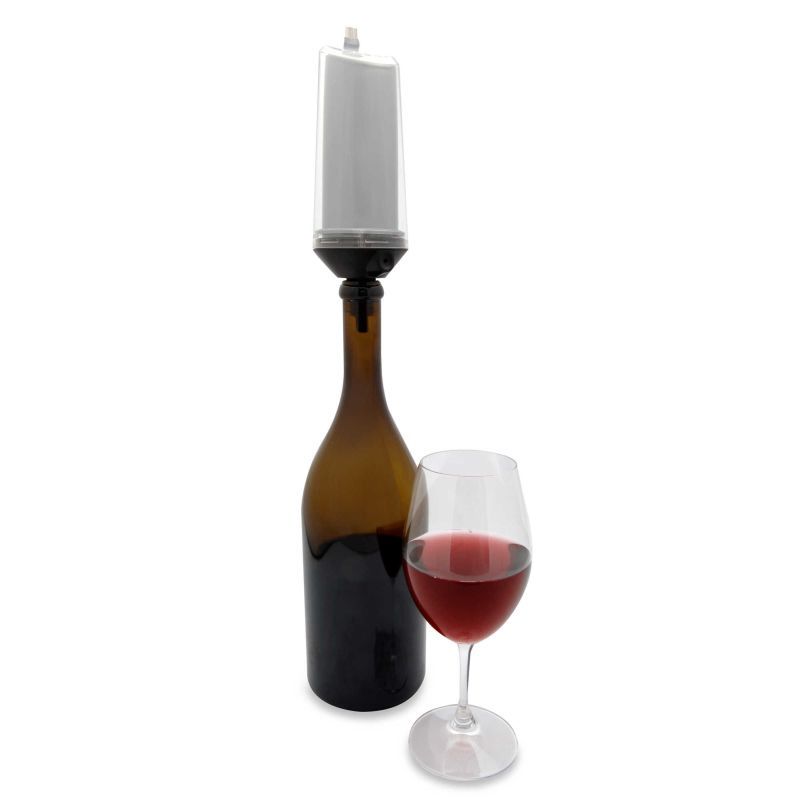 Ravi Instant Wine Refresher and Chiller
The Ravi Instant Wine Refresher is the fastest wine chiller on the market. The Ravi Wine Chiller is stored in the freezer and chills wine – not the bottle – as it is poured. Take the Ravi Instant Wine Chiller and Refresher out of the freezer and place it on a bottle of wine or Ravi Decanter and you will savor your wine at the right temperature in a few seconds. Simply store the Ravi Instant Wine Refresher in your freezer for at least six hours, then attach it to your wine bottle. The wine chills to perfection when you pour it through the Ravi and use the air-intake valve to control the flow for regulating wine temperature. Ravi can cool a full bottle of room-temperature wine to 64 degrees F and can keep white and rose wines chilled without an ice bucket.
Sale!     $39.95     $49.95
---
Remember…
**FREE Shipping on all orders $45 and up within the continental US (excluding drop shipped items).
**Standard orders ship within 1 business day.
---
Freezer Wine Bag – Keep your chilled wines chilled on the go!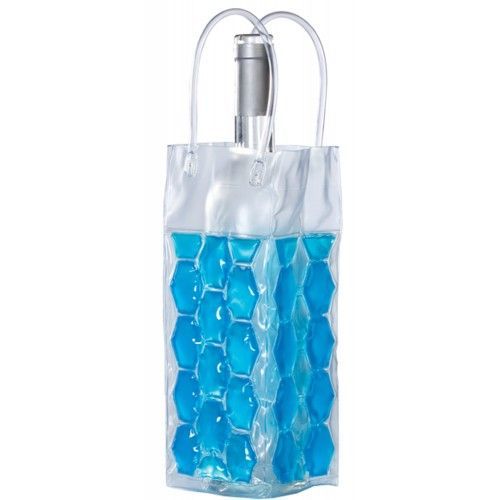 "Wonderful for travel or girls night out parties. Wish it came with printed instructions for gift giving." – Kimberly K.
"This product was delivered on-time and excellent condition. The bags worked out perfectly and kept the champagne at the cool temperature. Thank you for the great support and outstanding quality. I highly recommend this product." – Joseph A.
The Freezer Gel Wine Tote is both a wine chiller and an insulated tote. Put the Freezer Gel Wine Cooler Tote in the freezer for a few hours and it becomes a instant cooler for wine. The flexibility of the freezable VinoChill Wine Cooler Bag Deluxe, with gel cells on all four sides and flexible tubular handles, will adapt to the shape of your wine bottle. The cooling pockets of the Gel Wine Cooler Bag keep your wine chilled and dry. No need to add ice or water so no mess. You can even serve the wine without removing the bottle from the bag! The Gel Wine Cooler Bag is small and light and will protect your bottle when you travel. Available in several colors! Stands 10 inches tall, 3-1/2 inches wide on gusset.
Caution: Put in freezer for only a few hours before use. Do not store bag in the freezer. To prevent the possibility of tearing the bag, let bag relax and thaw for a few minutes at room temperature before opening.
$4.95
---
Be the first to write a review! You'll receive a 10% discount for writing a review for one of our products after you've purchased it – and an additional 5% off if you share the review on Facebook or Twitter.
---
Freeze Cooling Wine Glass set of 2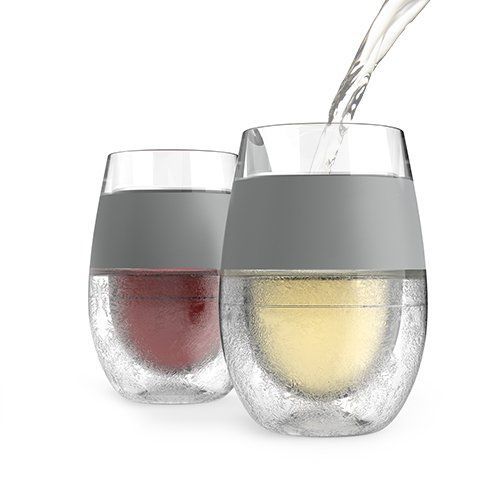 The Freeze Cooling Wine Glass is designed with cooling gel in the stemless acrylic wine glass to keep your wine chilled. Perfect for all wines, just pop the Freeze Cooling Wine Glass in the refrigerator to cool your reds to cellar temperature or store it in the freezer to chill whites. With this glass the days of watery Chardonnay are a thing of the past. The Stemless Freeze Cooling Cups are made of shatterproof BPA free plastic with an insulated silicone grip. For the best results, place the Wine FREEZE™ upside down in the freezer to allow the gel to evenly spread and freeze. The Freeze Cooling Wine Glasses are perfect for any outdoor event, picnic, pool party, BBQ, or beach party. Each wine glass holds 8.5 ounces. Set of 2 Wine Freeze Cooling Cups. Also available as a set of 4. Hand wash only.
As seen on Good Morning America!
Sale!     $21.95     $25.00
---
More wine chilling tips from our Facebook fans:
"Shaker full of ice…shake and strain!"
"Add the bottle to an ice bucket full of ice, water and salt. Let sit for about half an hour."


---
Follow GiftedGrape.com on Facebook
Come visit us on Facebook, where you'll find a coupon for 5% off your order!
---
Check Out A Best Seller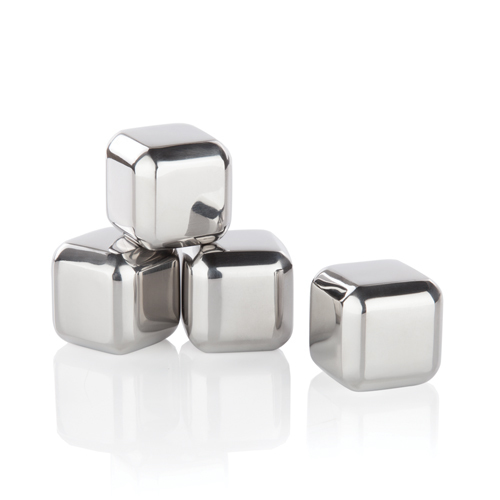 Stainless Steel Ice Cubes gently cool a glass of wine without diluting it like regular ice cubes. The best part? The reusable Stainless Steel Ice Cubes will never alter the flavor of wine. Made from stainless steel, these small glacier rocks won't scratch your glassware.And of course you can also use the Stainless Steel Ice Cubes with your favorite beverage on the rocks.
Includes 4 metal ice cubes and a storage pouch
Reusable, store in the freezer
18/8 Food grade seamless stainless steel filled with a freezable gel
Each cube is sized 27x27x26.5mm
Use 2 cubes per wine glass
Freeze 4 hours before using
Sale!     $25.95     $29.95
---
GiftedGrape.com Wine Accessories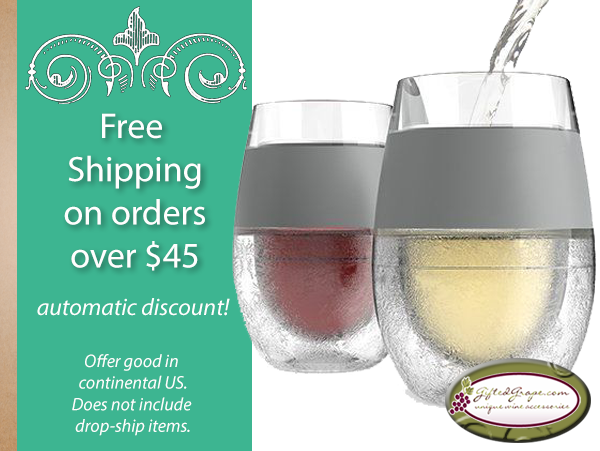 Good at https://GiftedGrape.com.
GiftedGrape.com – Must Have Wine Accessories for the wine enthusiast!
Free shipping on $45+