Make the most of the remaining summer days by planning a wine and cheese tasting buffet for your friends and family! We have some ideas for inspired wine and cheese pairings plus antipasti over on our Pinterest board, Wine and Cheese.
---
Start with the cheese!
What types of cheese will you serve on the Vintage and Vine Slate Cheese Board? Best to have a wide variety! When selecting cheeses, consider different textures and milk sources. Be sure to include a couple of tangy varieties along with the milder choices for your adventurous guests. Using a Vintage and Vine Slate Cheese Board, you can use chalk to write the names of your cheese on the board. Place the slate cheese board in the fridge a couple of hours before serving to help keep your hard cheeses cool! Try one of our environmentally friendly bamboo cheese and cutting boards for serving your soft cheeses and crostinis!
Tip: Check out this fun infographic from BuzzFeed that lists several cheese varieties and wine pairings!
---
Bamboo Cutting Board with Cheese Tools
Bamboo Wine Bottle Cutting Board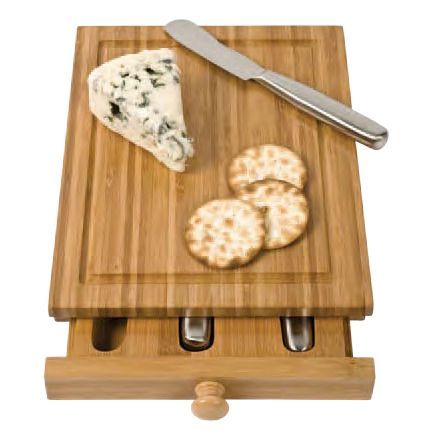 Vintage and Vine Slate Cheese Board: Ann G says "Very useful. Well designed. Easy to clean. Great for family use and parties. Wish that I had bought it sooner."
---
And Remember…
**FREE Shipping on all orders $45 and up within the continental US (excluding drop shipped items).
**Standard orders ship within 1 business day.
---
The Perfect Antipasti Tray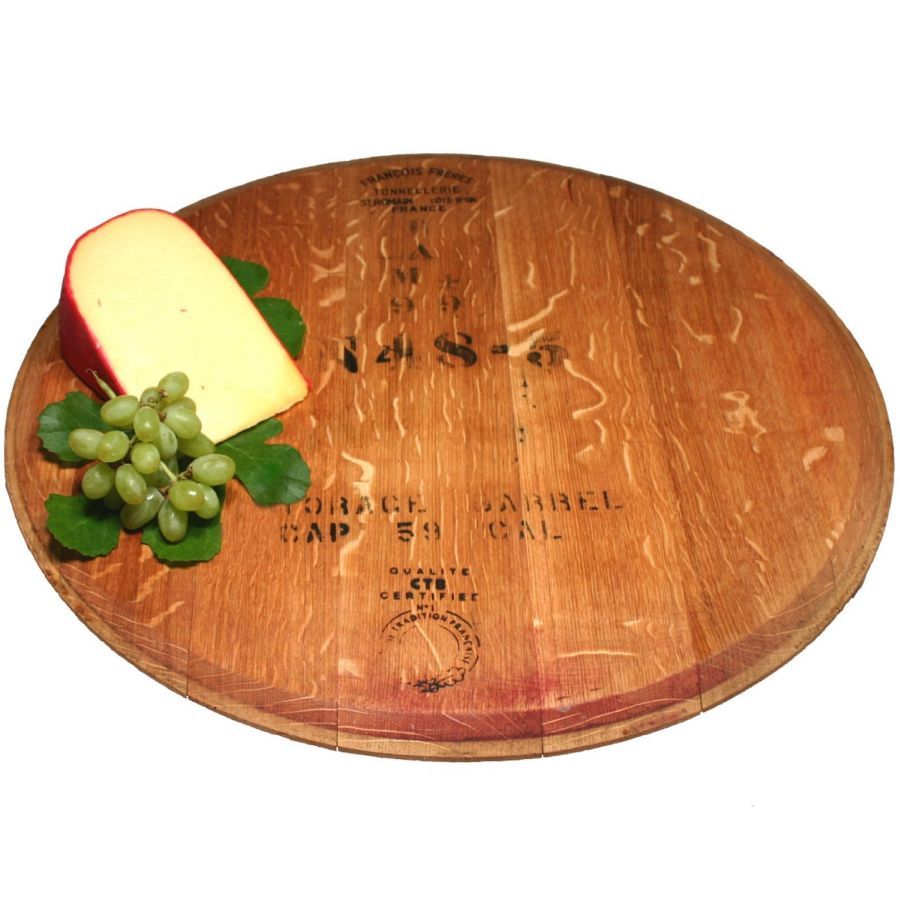 Old River Road Wine Barrel Lazy Susan
Carefully select sweet and savory morsels to build the perfect antipasti tray with tips from The Little Epicurean. The Wine Barrel Lazy Susan is the perfect centerpiece to serve your guests from. The Wine Barrel Lazy Susan is handcrafted in wine country from an authentic recycled French oak wine barrel. The Old River Road Wine Barrel Lazy Susan is a wine cask top that rotates 360 degrees. Each Wine Barrel Lazy Susan is made from a different wine barrel branded with a vintner's stamp (wineries vary too) and hand rubbed with butcher's block oil and beeswax.
---
Present Your Wines for Tasting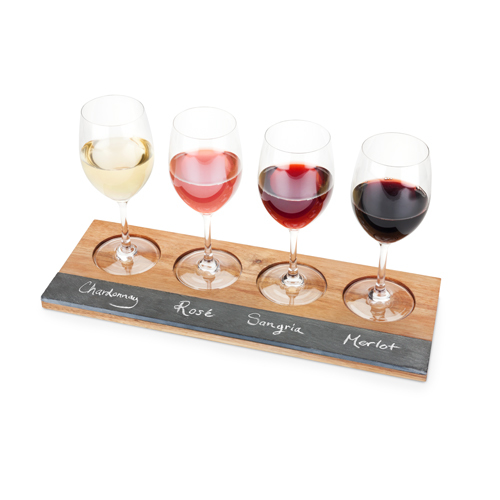 Looking for inspiration on choosing wines for your wine and cheese buffet? Check out this article from Delallo on cheese and wine selection! Then serve up your wines on the Wine Flight Server. This unique server pairs slate and acacia wood to elevate this wine flight board above all others. Four aligned cutouts hold one glass each of your signature chardonnay or bordeaux, while a smooth tapered handle ensures ease of transport from cellar to tasting room. With the slate front and the included chalk you can identify each wine.
Includes 2 pieces of soapstone chalk
Crafted from acacia wood & slate
Handles for easy transport
Four 3.4 in cutouts
6.5 x 17.25 in
Wine glasses not included
Be sure to pick up some wine glass charms to help your friends identify their glass!
.
Stock up on wine glasses here!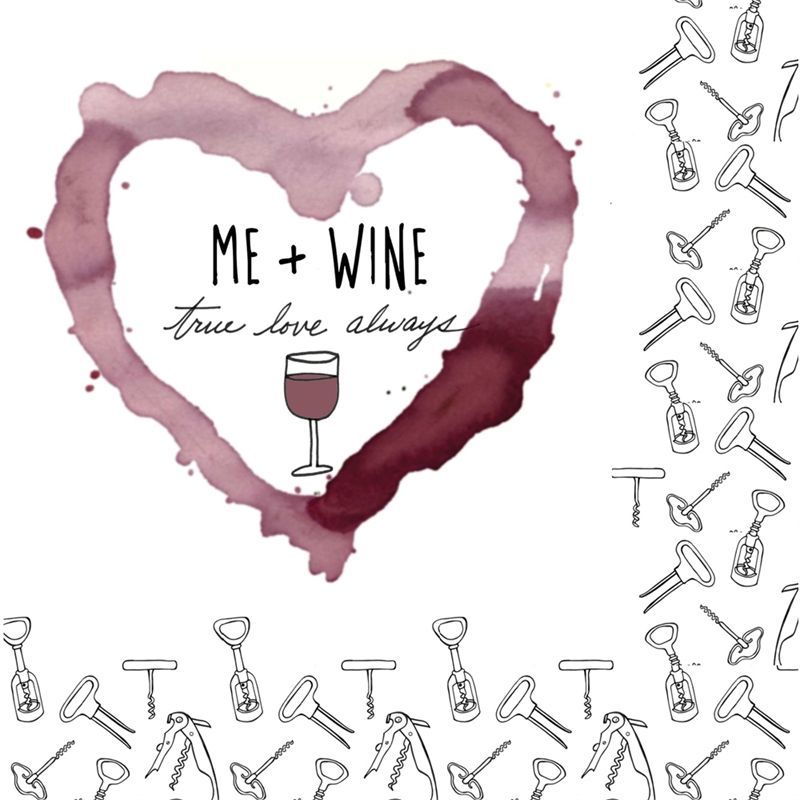 Me Plus Wine Cocktail NapkinsThe Me + Wine True Love Wine Cocktail Napkins are beautiful cocktail napkins to show your love for wine.These wine themed beverage napkins feature Me + Wine inside a heart with true love always written below and images of corkscrews around the edges. The Me Plus Wine Cocktail Paper Napkins are 3-ply and come 20 per pack.
---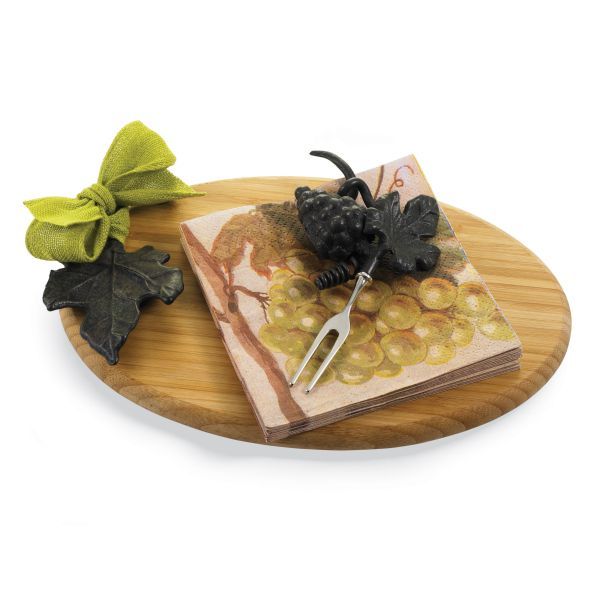 Grapevine Cutting Board and Cocktail Napkin Set
The Grapevine Cutting Board Set comes complete with an oval bamboo cutting board with forged metal grape leaf, 10 3-ply wine cocktail napkins and coordinating cocktail fork tied with linen ribbon. This Mud Pie Cutting Board Set is made of bamboo. The Grapevine Bamboo Oval Board and Napkin Set makes a perfect thank you gift for a wine lover.
Shop our full cocktail napkin supply here.
---