---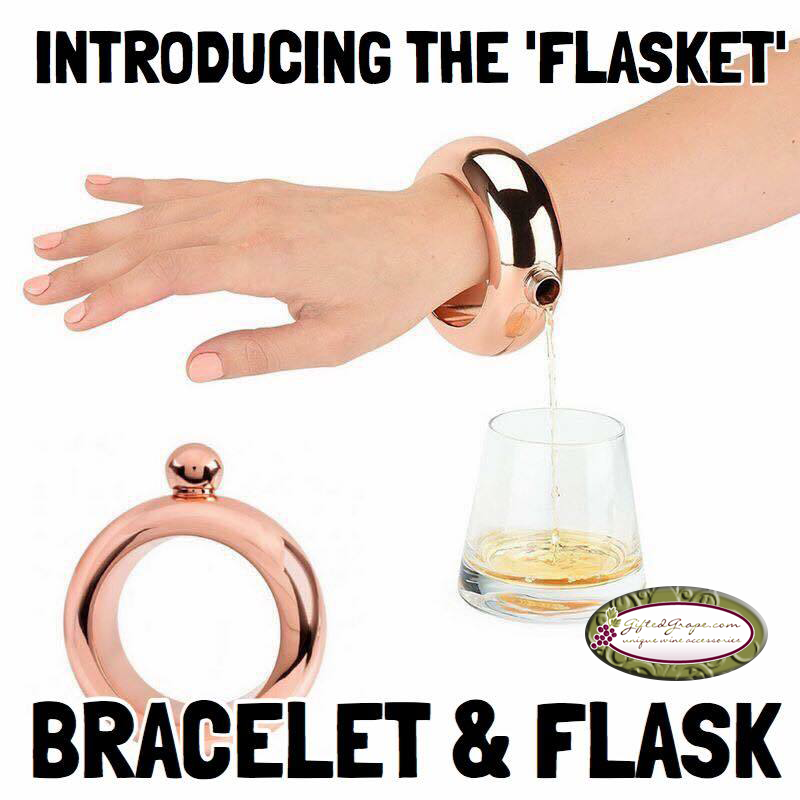 The Bracelet Flask by Blush – never be without your favorite wine again!
Here is a list of 5 of the hottest wine accessories and gifts for summer 2017. Give to your friends and family or keep them on hand for summer wine survival! You're entertaining, or visiting, or traveling, and you want to be ready for any situation that arises! Keep your stress to a minimum and fun at maximum with these unique and indispensable wine accessories that you will love! Pick up the Bracelet Flask, the hottest new wine accessory that's got Facebook buzzing, or try the Wine Hook, which will attach your wine glass to nearly any patio chair, deck chair or camp chair to keep your hands free. GiftedGrape.com has a great selection of wine accessories and gifts, and great prices too!
---
Bracelet Flask by Blush – 2017 Must Have Wine Accessories
Wearing your heart on your sleeve is not nearly as fun as wearing your drink on your wrist with a Bracelet Flask. Perfect for situations that require subtle sipping, this Bracelet Flask by Blush might be the most utilitarian and stylish accessory you own. Should we just call it a Flasket – a Flask and a Bracelet?
The Bracelet Flask by Blush Features:
Fill with wine or liquor straight from the freezer for a refreshing way to cool down at hot outdoor events
High quality construction with a seamless finish
Holds 3 ounces of your favorite wine or spirit
Silicone insert in lid creates tight seal and no leaks
Sale!     $36.95     $45.00
---
Remember…
**FREE Shipping on all orders $45 and up within the continental US (excluding drop shipped items).
**Standard orders ship within 1 business day.
---
Keep Your Wine Secure with the Wine Hook by Unique Solutionz!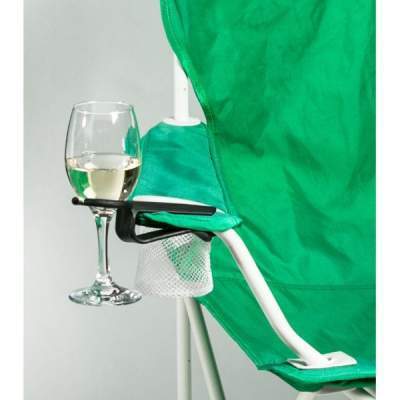 The Wine Hook is a wine glass holder for an outdoor chair and clips onto the arm of a chair to hold a stemmed wine glass. The Wine Hook slides onto the arm of your outdoor chair and turns that chair into a wine glass holder! Bring your wine wherever you are with the Wine Hook. The Wine Hook works on most chairs including Adirondak chairs, camp chairs, patio chairs and wicker chairs with an arm less than 1″ thick. Have you ever been at an outdoor event and didn't have a place for your wine glass? Now you can enjoy drinking your glass of wine without the fear of spilling. Your friends will love the Wine Hook as a unique gift for the holidays, or just because you know they are a wine enthusiast.
Made in the USA
$8.95
---
Stylishly Display and Carry Your Wine – and More!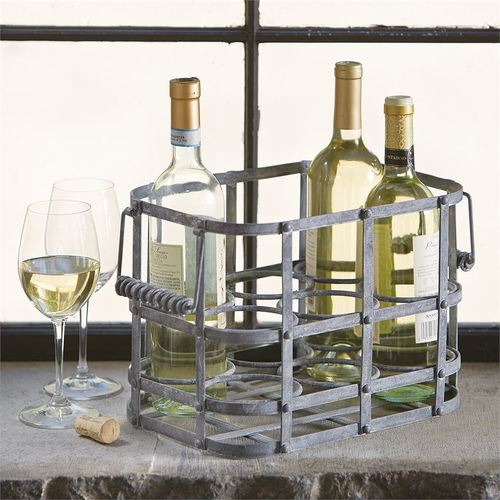 This metal wine bottle caddy by Mud Pie features coiled wire handles and holds six bottles of wine. This metal wine bottle carrier is perfect for displaying wine bottles as well as being used with tumblers for flowers and other decorating ideas.
Sale!     $29.95     $55.50
---
Be the first to write a review! You'll receive a 10% discount for writing a review for one of our products after you've purchased it – and an additional 5% off if you share the review on Facebook or Twitter.
---

Follow GiftedGrape.com on Facebook
Come visit us on Facebook, where you'll find a coupon for 5% off your order!
---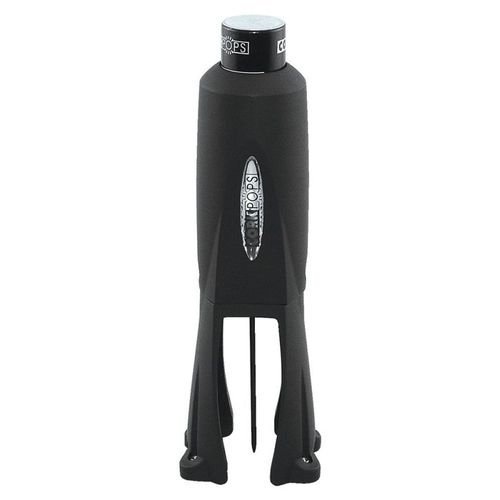 Perfect for wine-on-the-go: Open your wine quickly and with no fuss using the Cork Pops Legacy Wine Opener. This must have wine accessory is perfect on the pontoon, the outdoor bar, in the picnic basket or to throw in your weekend get-away bag so you'll always have an easy to use wine opener on hand. The Cork Pops Legacy Wine Opener uses a low-pressure inert gas cartridge to gently pop the cork from a wine bottle without affecting the taste of the wine or harming the environment. With the Cork Pops Legacy Wine Opener simply insert the needle straight down through the cork, press once and the cork pops out. The Cork Pops Legacy Wine Opener offers a unique single step motion for effortless cork removal as well as incorporating an enhanced foil removal system, patented cork ejector, and user-friendly rubberized finish. The Cork Pops Legacy is designed to fit all traditional wine bottles as well as flanged lip bottles. The rubberized black finish makes it the perfect addition to any style bar. It comes packaged with one cartridge which will open between 60-80 bottles of wine.When you need more cartridges, order Cork Pops Refill Cartridges.
The Cork Pops Wine Opener is one of the highest rated wine bottle openers GiftedGrape.com sells! See why:
"This is the easiest and best wine bottle opener ever! It removes the cork effortlessly."~Thanks Julia!
---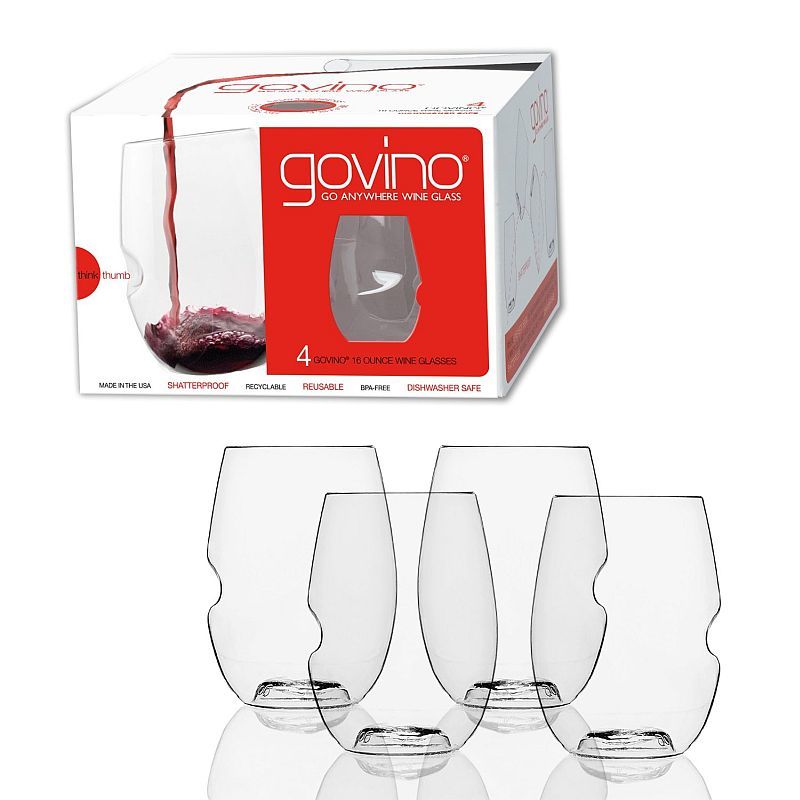 Govino Wine Glasses -Dishwasher Safe are go anywhere stemless wine glasses that perform much like real crystal wine glasses, yet are made of a food-safe, shatterproof, flexible BPA-free polymer. Govino wine glasses are the ideal way to enjoy all types of wine whenever stemware isn't available, or where breakable glass is impractical. Govino's signature thumb notch makes for secure handling. These glasses are top rack dishwasher safe, reusable, and recyclable. Govino Stemless Wine Glasses are perfect for pool side, picnics, travel, tailgating or anywhere that you don't want breakable stemware. Set of 4, 4.4″ tall, 16 ounce wine glasses. Where do you govino?
Made in the USA.
$22.95
"It seems like every time we have a party, wine glasses and bottles are inevitably broken by the pool or somewhere on the deck or patio. Hopefully these cool little glasses will solve the problem. I love that there is an indentation in the side of the glass for thumbs. It helps to hold on to the glass when there is a lot of condensation on the outside of the glass." ~Thanks for the great review, Ann!
---

---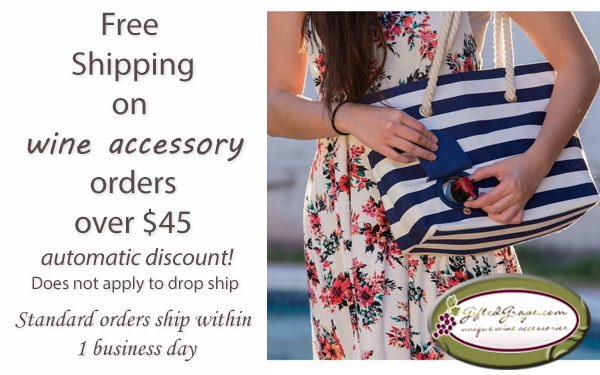 Good at https://GiftedGrape.com.
GiftedGrape.com – Must Have Wine Accessories for the wine enthusiast!
Free shipping on $45+ – Continental US Shipping Only – Does not apply to drop ship