Create an Autumn Mood with Wine Accessories from GiftedGrape.com
Votive Wine Bottle Candle Holder This time of year is special. Let GiftedGrape.com help you create a mood with your wine accessories that reflect everything we love about fall! Campfires, leaves, keeping warm, mulled wine, harvest… What are your favorite autumn happenings?
Tipsy Stemless Wine Glasses by Susquehanna Glass

The Tipsy Stemless Wine Glasses are four different humorous stemless wine glasses deep etched by the artisans of Susquehanna Glass. The Tipsy Stemless Wine Glasses have four synonyms for tipsy character etched onto its side to indicate that the drinker is lit, toasted, juiced or buzzed.
---
"Delicious autumn! My very soul is wedded to it, and if I were a bird I would fly about the earth seeking the successive autumns." George Eliot
Votive Wine Bottle Candle Holder

The Votive Wine Bottle Candelabra by Old River Road is a wine bottle candle holder that fits on the top of a standard wine bottle turning it into a beautiful votive candelabra. The Wine Bottle Candelabra is held securely in place by a bottle stopper and adds a touch of elegance to a table. The Wine Bottle Candelabra uses votive candles to turn your empty wine bottle into a beautiful candelabra and includes the four glass votive holders. The wine bottle candelabra will bring warm, glowing light and charm to any setting including those where an open flame is not allowed and is a great way to reuse wine bottles. The Wine Bottle Candelabra is made of iron with a rustic pewter finish.
I bought the candelabra as a gift. They were very excited when they opened the package! They said it was beautiful and unique and that they couldn't wait to open a special bottle to then use it as the holder and make a continuing memory. It was a big hit!
They are lovely on my dining table!
It arrived as promised and it fits perfectly in my wine bottle and looks fabulous!
---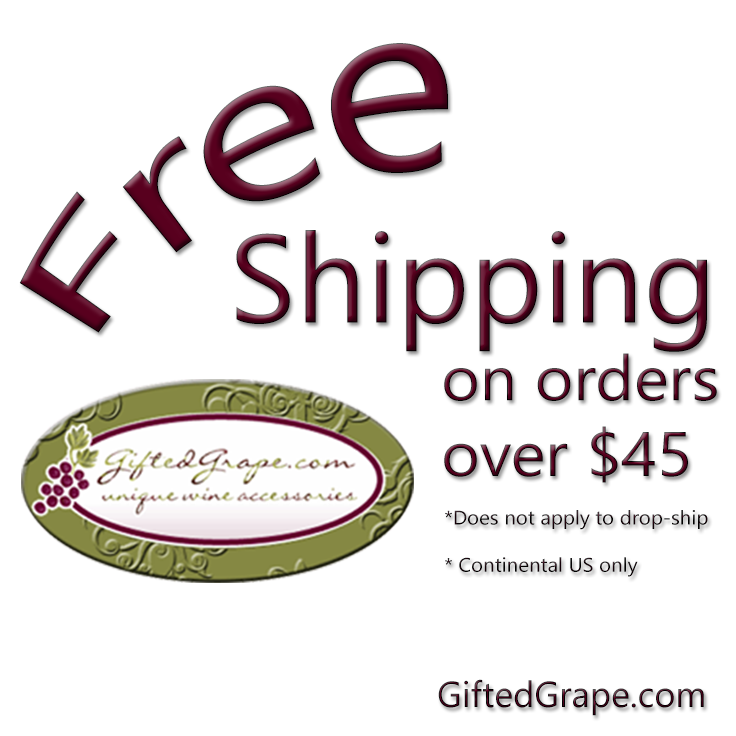 Free shipping on orders over $45 at GiftedGrape.com
Remember…
**FREE Automatic Shipping on all orders $45 and up within the continental US (excluding drop shipped items).
**Standard orders ship within 1 business day.
---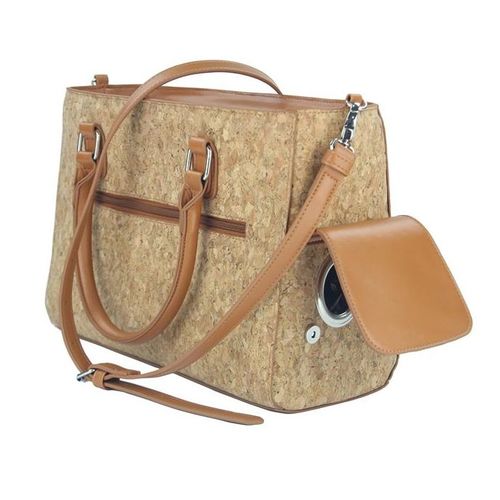 Drink Purse with Wine Bladder- Cork
Show up to the bonfire in style! The Drink Purse with Wine Bladder- Cork fits the liner from a box of wine with an opening on the side for the spout. This Insulated Drink Purse includes a disposable 3 liter bladder with a spout that holds up to 4 bottles of wine or your favorite drink turning your purse into a stylish, portable drink dispenser. The pouring spout is concealed by an exterior flap. What looks like a stylish cork handbag is actually an insulted wine drink purse that can hold the bag from most boxes of wine.
Visit GiftedGrape.com
5585 US Highway 1 N Suite 4
Vero Beach, FL 32967
Call us anytime @ 877-978-7666