---
Clean your precious stemware without worry! Cleaning your wine glasses and decanters with the proper cleaning accessories ensures your investment in fine glassware will give you joy for years to come!
With FREE SHIPPING on orders over $45, you'll be able to make your shopping dollars go farther!
Wine accessory cleaning solutions that work!
Fusion Stemware Drying Rack $25.00  $19.95
Washing up your wine glasses and wine accessories can be less of a headache with our selection of wine cleaning tools.
Fusion Stemware Drying Rack (above) is a patented wine glass drying rack perfect for air drying up to eight wine glasses at a time. The Fusion wine glass drying rack makes air drying your beautiful hand washed glasses so easy. With its striking design and amazing functionality, this drying rack is a perfect tool to aid in cleaning up after a dinner party or wine tasting. The Fusion Stemware Drying Rack is is durable and features a chrome finish, with protective balls on the feet, so it won't scratch your counter. The legs on the drying rack fold flat for easy storage. The Fusion Stemware Drying Rack can be used for air drying wine glasses as well as to display them. Dimensions: 11.5" H x 20.5" W x 7.5" D
"I love mine. I bought these two to give to my daughters." -Hope P. on the Fusion Stemware Drying Rack
---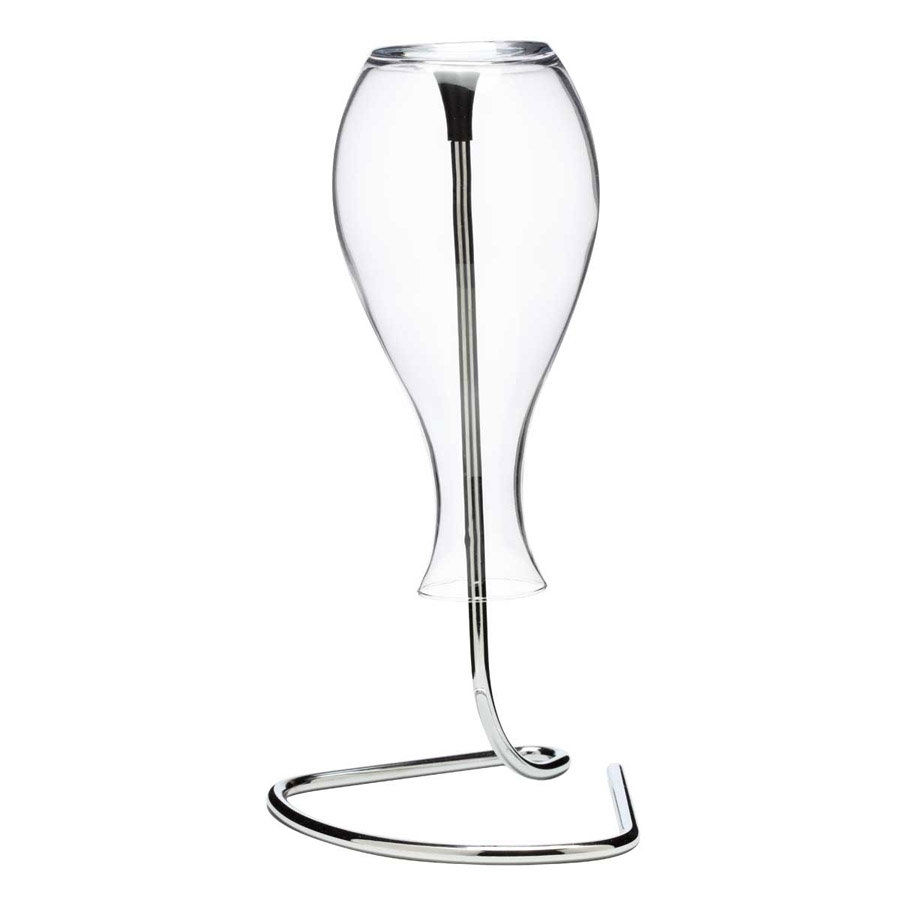 The Decanter Drying Stand is the fastest way to keep condensation from forming in a wine decanter while it is drying. The chrome decanter drying stand has sturdy construction, a simple and practical design, and features a black rubber stopper at the top to keep your decanter from sliding. This stylish decanter drying stand is not exactly an eyesore on the countertop or bar, either. Set this decanter drying rack on your kitchen countertop or bar and display your decanter as it dries. A must-have accessory for the wine lover or savvy bartender, this stand-alone decanter drying rack will hold most decanters of various shapes and sizes. You will never have to struggle to air dry a wine decanter again. The decanter drying rack is 12.5"H x 7"W.
$7.95
---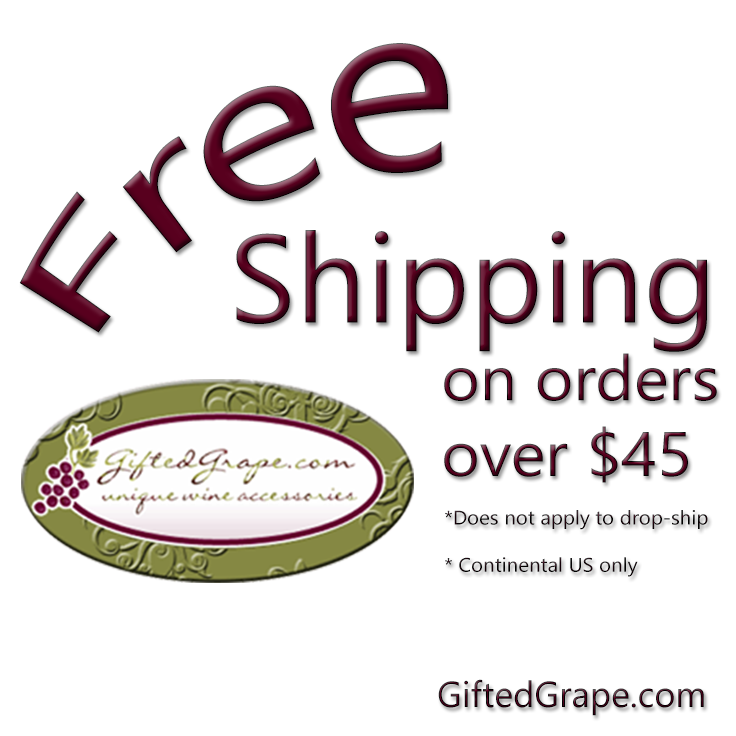 Free shippng on orders over $45 at GiftedGrape.com
Take advantage of GiftedGrape.com's free shipping on orders over $45 today!
Continental US only.
Does not apply to drop ship orders.
Most orders ship within 1 business day!
---
The StemGrip is a dishwasher wine glass clip to safely wash wine glasses and champagne flutes in the dishwasher. Each StemGrip set can hold four pieces of stemware. StemGrip features a vertical piece that slides over one of the tines in your dishwasher rack. Individual clips attach to the stem of each wine, champagne, or martini glass, then a hole in the clip slides over the vertical spine, holding the stemware upside-down, and securing it so that it does not break or rub against other items in the rack. Stem Grip is made of rustproof, heat resistant plastic and stainless steel springs. Say goodbye to hand washing all of your fine wine glasses!
The StemGrip fits over the vertical tines of most styles of dishwasher. Each stemware clip can be independently removed so you can wash one glass or four. The StemGrip will hold goblets with thicker stems or flutes with thin delicate stems. Each clamp grips the stem of the glass with a non-slip silicone surface to keep your stemware secure.
$14.95 $17.95
---
Be the first to write a review! You'll receive a 10% discount for writing a review for one of our products after you've purchased it – and an additional 5% off if you share the review on Facebook or Twitter.
---
Featured Products
$11.95
The Decanter Cleaning Beads make cleaning your decanter easy. Simply put these high grade steel Decanter Cleaning Beads in your decanter, add water and gently swirl the balls. The high-grade stainless steel balls smoothly gobble up wine stains. The Decanter Cleaning Beads can be used over and over again. Even hard to reach places in your decanter will sparkle. These cleaning beads really do work!
---
Wine Glass and Decanter Cleaning Brush Set
$12.95
The Wine Glass and Decanter Cleaning Brush Set includes one brush for cleaning decanters and one for cleaning wine glasses. Made from no-scratch foam, the Wine Glass and Decanter Cleaning Brush Set can reach where your hands can't. These brushes are flexible to fit any shape wine glass or decanter.
---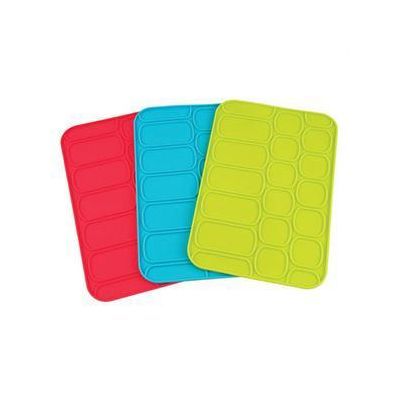 The Wine Glass Drying Mat minimizes waters spots on wine glasses as they are air drying on the mat. This Silicone Wine Glass Drying Mat has a soft padded surface with air flow channels that allow moisture to escape preventing water spots from forming on a wine glass. Dry your wine glasses with ease using this stylish and durable silicone rubber drying mat. This heat-resistant and water resistant mat can also be used to protect your tabletop. Holds up to six wine glasses. It comes in three bright colors – blue, red and green. We will choose one for you unless you specify a color in customer notes on your order.
$13.95
---
Easy Shine Microfiber Wine Glass Drying Towels
Easy Shine Microfiber Wine Glass Drying Towels (80% Polyester, 20% Polyamide) have the absorption and polishing properties of a chamois towels for drying fine wine glasses. Perfect for hand drying wine glasses, these microfiber cloths are best used when dry. The microfiber towels are safe for your best wine glasses and are RoHS compliant (lead-free directive). The Easy Shine Microfiber Wine Glass Towels absorb moisture quickly and polish away any streaks on your wine glasses. Each towel in the set of two measures 15-3/4" x 11-3/4".
$9.95
---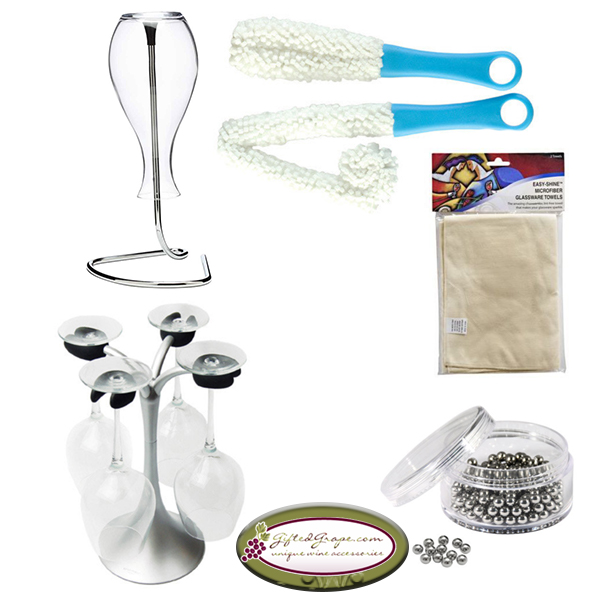 Mega Wine Accessory Cleaning Kit
This Mega Wine Accessory Cleaning Kit has everything you need to gently clean your prized wine glasses and wine decanter. Only $56.95 plus FREE SHIPPING!